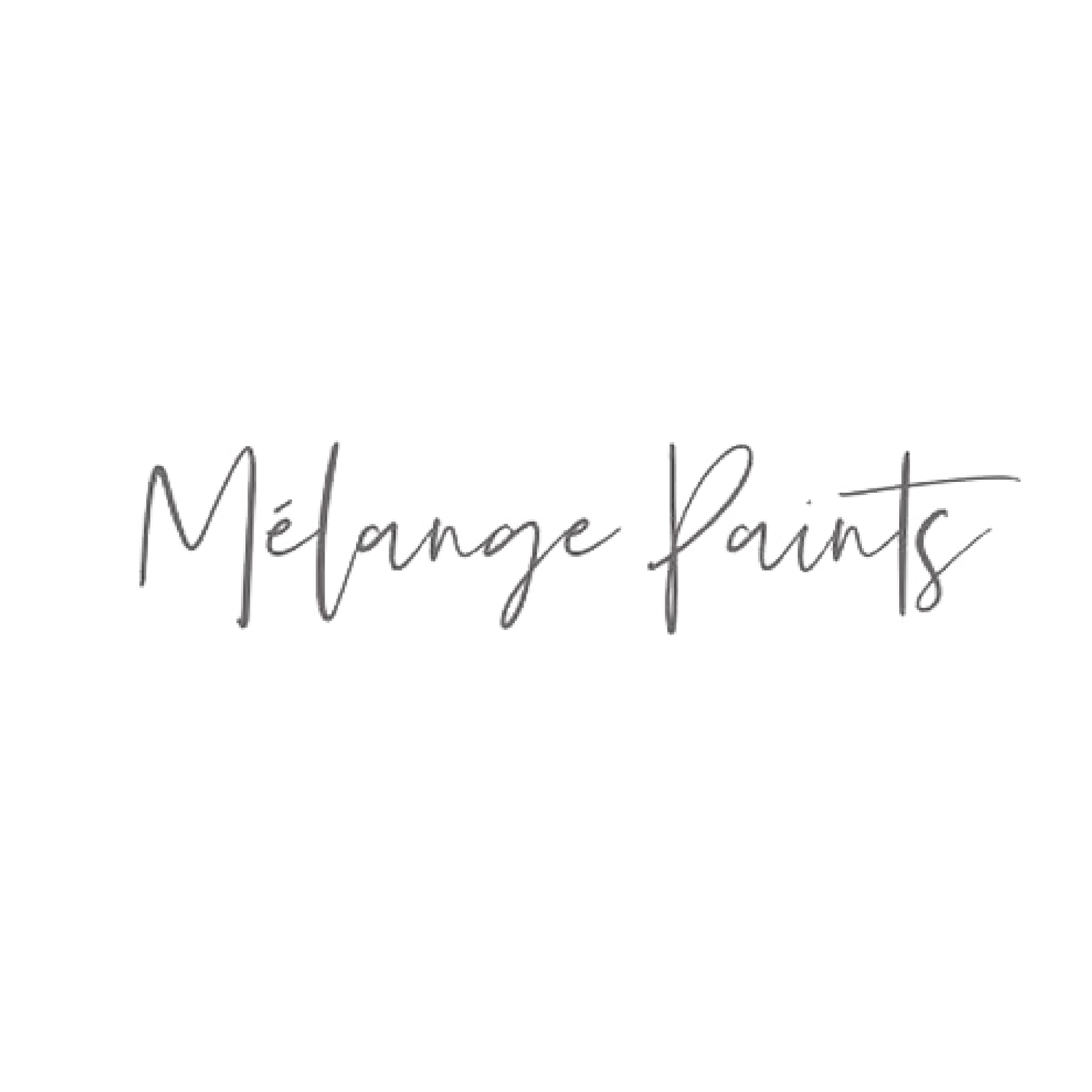 Mélange Paints is a small, veteran owned, woman led paint making shop located in the Houston, Texas area, United States of America. At Mélange Paints, each and every batch of paint is made in-house and are water based, zero/low VOC, self priming and self levelling. Hand-poured into eco-friendly glass jars the coverage is incredible, the adhesion is fantastic, and the consistency is luxurious.
How to Use Mélange Paints
ONE Furniture Paint

Application:

Give the paint a good stir/shake and check to see if the viscosity is to your preference. Some of our mineral formula lighter colours can thicken in the jar; this can be easily corrected by adding a little filtered water to bring the paint to your preferred consistency. Always strain before using in a sprayer.
Please note: recommended that you test any product in a small/hidden area before use. Each project is different, depending on surfaces painted and products used. Recommended using  Mélange Paints primers and topcoats where needed. If you use other brands for these products, please test first to ensure no reactions between products.

 

The Rachel Brush is the perfect brush to pair with ONE paint. Additionally, Mélange Paints can be diluted by 5% and used with a paint sprayer, as well as rolling on with a foam or microfibre roller.
Most colours take 2-3 coats for full coverage with the notable exceptions of highly pigmented Bohemian Gold, Bikini Pink, Carbon Black, Tobacco Brown, and Palo Verde Green, which take 4-5 coats for full coverage. Bright whites such as Sonnet and Perfect can also take 4-5 coats depending on surface being painted and if primer is used.
For using in a sprayer, you will want to go by the instructions included with your sprayer as they are all different and have varying requirements. There should be information included in the owner's manual about required viscosity and how to test for proper consistency. If no dilution rate are recommend by sprayer manufacturer, start with 5% dilution. After that, test and adjust; it comes down to a matter of environmental conditions, personal preference and technique. You will probably want to practice with a test board or piece to find what works for you. Always strain before using in a sprayer.
A thorough cleaning of your piece with a degreasing agent, followed by rinsing, and at least a light scuff sanding, then a good wipe down are recommended for best results. If using Melange Anvil Furniture Cleaner there is no need to rinse.

 

 Mélange Paints are self priming; additional primer is not needed in most applications unless you are painting over an extremely slick surface (for this, sand well and use an adhesion/bonding primer) or painting over a surface with staining or potential bleed through such as raw wood (use a stain-blocking primer for this.) We recommend pairing our primers with our paints. If using other brands, test for compatibility.

 

For ONE line: allow 2-4 hours before recoat at temps of 50° or above.

 

For cooler temps, allow more time for drying between coats.

 

If it is very cool or damp, the paints can take longer (up to 24 hours) to fully dry before the next coat. To prevent this, paint in a climatized area.
ONE paint does not require sanding or sealing.

Coverage:

Quart (32 oz): Approx. 150 square feet.
Pint (16 oz): Approx. 75 square feet.
Half-Pint (8 oz): Approx. 35 square feet.
Sample (1 oz): Approx. 2 square feet.

Top Coating:

The ONE line paint does not require sealing as it has topcoat built in for a lustrous finish. You can add additional protection by top coating with wax, poly, etc., if desired for high use pieces such as tabletops and cabinetry.

Storing:

Keep the paint from freezing temperatures (do not store outside or in non-climatized areas as paints do not have an anti-freezing agent added).
Wipe rim clean, and tightly screw lid back on after use.
Opened paint will store for approx. 1 year, unopened paint can store indefinitely.
Do not add unfiltered water directly to jar, decant into different container and dilute with filtered water.

Cure Times: 20-30 days for all paints. 

Brush Care:

To clean brushes after using any of Mélange Paints paints, use a good quality brush cleaner.
Keep brushes facing downward while cleaning and rinsing so they do not collect water in the metal ferrule.
Place with bristles pointing downward to dry.
If the brush has some dried paint in the bristles, you may use a brush comb to help clean it.
In between coats, store brushes in a tightly sealed plastic bag in refrigerator for up to 24 hours.

 

Clean Up:

All of  Mélange Paints and products are soap and water clean up.
To remove paint (wet or dry) from surfaces it may have accidentally gotten onto, use soap and water clean up and gentle blotting and/or scraping depending on the surface type and age of spill.
Note: do not use Dawn dish soap to clean Stain Blocking Primer from brushes.
MODERN Cabinetry Enamel

 Preparation for Use:

All surfaces must be clean, dry, and free of any dirt or grease.
Clean surfaces with a TSP type cleaner and rinse well.
Sand or scrape any loose or peeling paint.
Scuff sand glossy surfaces to remove shine and aid in paint adherence.
Remove all dust from sanded surfaces with a damp lint-free cloth.
Remove any existing wax or polish with mineral spirits.

Application:

Do not thin.
Stir before and during application.
Use adequate ventilation during application and drying process.
Use product when air and surface temperature are between 50°-90°F (10°-32°C).
Apply a thin coat using a high-quality synthetic brush, 1/4"-3/8" microfiber roller or an airless sprayer.
Repeat coats until desired coverage is achieved.
Do not apply additional topcoat.

In Addition:

2-3 coats recommended for full coverage and longevity. May take longer to dry for dark colours or in cool/damp environmental conditions.
2-4 hour dry time
4-8 hour recoat time
Do not apply additional topcoat.
If using a primer from a different brand, test first for compatibility.

 Note:

Approx. 550 sf coverage per gallon.
Soap and water clean up.
Allow 30 days for full cure.
Clean painted surfaces with mild detergent.
Stain blocking primer may be needed to ensure tannin blockage.
Keep product from freezing.